PROGRAM OFFICE INTRANET IMPLEMENTATION -- WeatherEye played a key role in developing and deploying a mission critical large scale intranet application.

The Need:
The United States Air Force Electronic Systems Center AWACS program office envisioned a new way of doing business by developing an intranet to more efficiently and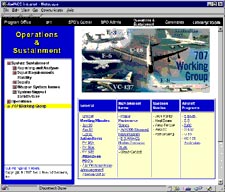 effectively share and distribute key program information. The solution needed to present a common interface, streamline and organize the process of sharing documents, enable access by geographically separated government users and contractors and capitalize on existing technologies and capabilities. The requirement was bounded by these parameters:

Support organization with 250 primary users -- 100s more secondary users.
Multiple locations (US and International).
Multiple organizations (government, military, contractors, foreign governments).
Share information.
Disseminate information -- local internal staff, remote team members, suppliers (extranet organizations).
Create Information.
Manage Information -- on the desk top, on the road and in meetings.
Users maintain content.
The Solution:
Build an intranet around a browser accessible Web based set of applications. Reuse applications from the greater corporate intranet including a document upload program to ease intranet publishing for infrequent publishers. Implement the applications and site on Microsoft NT Internet Information Server. Apply active server pages to interface with Access databases. Organize information to parallel organization structure. Site structure designed to categorize access to 500 specific documents tailored to product team organization. Programs and HTML pages geared to operate from Netscape and Microsoft browsers. Solution feature set includes:
Site structure geared to integrated product team organization.
Build Web site based structure using browser interface
Integrate and adapt to legacy formats.
Create site map tailored to program office mission, organization and way of doing business.
Implement ESC standards including Microsoft NT, Internet Information Server and FrontPage authoring environment.
WeatherEye's Contribution:
As subcontractor to Litton/PRC under the MISTS II program, WeatherEye provided a broad mix of expertise that included program management, planning, design, development, implementation and training tasking and responsibilities.
Authored program management plans and strategies.
Conducted interviews to gather and document detailed requirements, workflow and processes.
Designed structure for organized Web site consisting of over 500 preplanned pages.
Developed the hooks to allow specific users to expand beyond the basic implementation while maintaining site integrity and navigation paths. Structure provided intuitive links to source data.
Developed specific Web content and example pages.
Devised methods for merging document management with Web page publishing.
Created templates so that users can publish similar information with a standard look and feel.
Provided in-depth just in time training to skilled and non-skilled users tailored to individual, job and technical needs.
Conducted classroom training in AWACSnet functions and FrontPage Web authoring using workshop approach
For more detailed information contact WeatherEye Systems.
Subcontrctor to

on MISTS II.