Customer Service on the Internet
Pages Hosted by WeatherEye | Java demonstration
---
The Internet is offering new ways to reach your customers. It augments current methods by offering a richer, on demand interaction.
---
Customer service is a key business function -- arguably the most important. It is typically performed in a fragmented way using a multitude of approaches. A combination of technologies including telephone, faxes, letters, mailings, mass media, trade shows and other personal contact prevail. Up and coming is another method, the Internet. Internet technology can play an important role in improving customer service by establishing a business interface available to customers "on demand."
The current situation:
Customer has need.
Looks in catalog(s).
Calls companies for product alternatives.
Customer awaits return call.
Establishes contact with sales.
Sales fields request for product information.
Sales support sends brochure package (catalog).
Customer receives package and reviews.
Customer calls sales with questions.
Customer awaits return call.
Contact made - salesman again responds.
Dialog continues then further activity is likely to include:
Customer requests quote or proposal.
Sale made.
Product shipped.
Customer receives product.
Customer has question or problem and calls customer service.
Customer on hold.
Customer service responds.
Corrective action taken.
During the next few years the Internet will augment traditional customer service communications. Traditional World Wide Web home pages will be the norm. Voice and video transmission humanizes the medium. As the technology becomes common place, Internet communication will replace traditional methods as a matter of choice, efficiency and favorable economics.
To illustrate:
Internet Web pages replace traditional catalogs and brochures.
Web page queries replace ad hoc call for answers.
Electronic mail serves as an effective means to establish a dialog without the waiting and call backs.
On demand video replaces the short sales call so difficult to schedule.
Electronic commerce is realized -- ordering, invoicing and payment.
Will the Internet help the bottom line? Opportunities abound through salesperson efficiencies, reduced duration of sales cycle, reduced publication costs, reduced ad hoc travel, along with many others only you can imagine.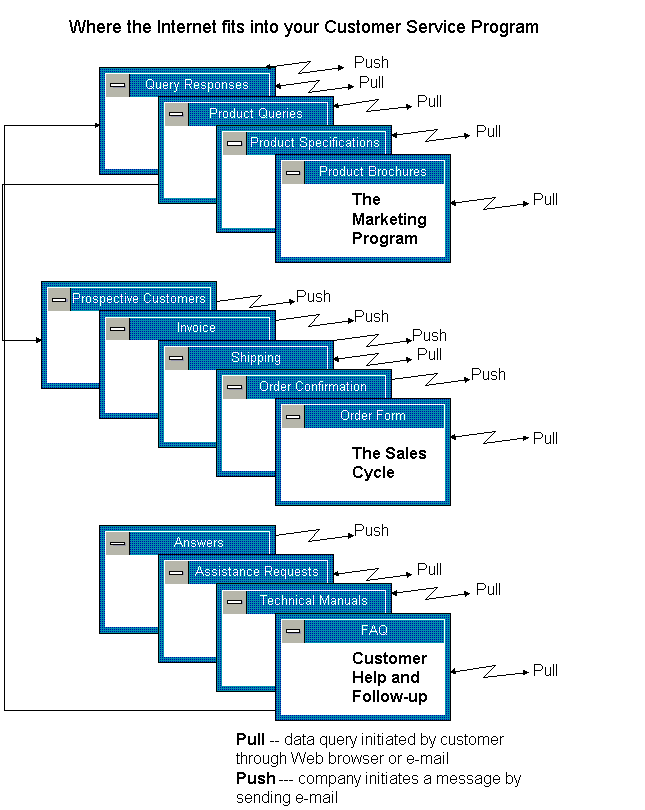 The Internet supports the full cycle beginning with your marketing program through sales and on to follow-up business activities.
---
Return to Archive

For information please send e-mail to info@weye.com or phone us at 603-891-0112. Copyright &copy 1995,1996 by WeatherEye Systems Incorporated.
Updated June 3, 1996